International Women's Day: Women in Craft
In recognition of International Women's Day we are celebrating the female makers in our workshop. The furniture industry still has lots of work to do in order to catch up with the representation of women in the wider workforce. 
Results of the Labour Force Survey 2018 by the Office of National Statistics show that just 10% of furniture maker jobs in the UK are held by women. At Lacaze we are proud to employ expert crafts people while striving to maintain strong female representation. 
The graphs below show the proportion of women furniture makers in the UK and the proportion of women furniture makers with Lacaze. 

We spoke to three female crafts people working in surface finishes, upholstery and joinery at our workshop to find out more about what they do.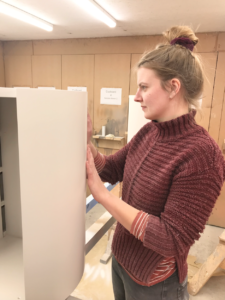 Anni
Anni is our surface finisher and works with everything from timber stains for upholstered furniture bases to intricate gilding work on stand alone pieces. "I did a degree in Textile and Surface Design at Bucks New University and through that I discovered I enjoyed the surface design side the most, anything decorative, the special final touches." Anni's university placement helped her discover her love of gilding which is the "application of gold leaf on a surface. This placement really informed my degree. I did a series of interior wall treatments which focused on gilding, even though I look back now and think they look awful!" 
Recently we completed a gilded sideboard for an international client, a project which Anni enjoyed. Moving forward Anni is interested in finding modern alternatives to ancient crafts and refers to a gesso sample she recently worked on "that's using rabbit skin glue, which is obviously a horrible product, and chalk. I think there is an opportunity to do it again and reproduce the finish using modern materials. That's what is most exciting, taking a traditional approach and modernising it to be used today". Anni is a talented finisher and incredibly creative. She looks forward to experimenting with different materials and applications to develop our own bespoke range of special finishes, there is never a quiet moment in the spray booth!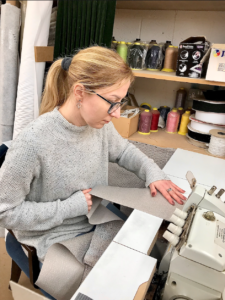 Ewelina
Ewelina is a key member of our upholstery department and has been with us for many years. Originally from Poland, Ewelina's love of sewing began when she was a child watching her grandfather at his sewing machine making trousers from simple fabric. As a teenager Ewelina altered clothes, "sometimes I added new accents like contrast top stitch or embroidery patterns". This helped her gain her first job at a furniture upholstery company in Poland where she was excited to improve her skills and try something new. 
Ewelina went on to describe her teacher as a "great woman. She taught me sewing, precision and patience at work. I could also rely on her in every area of my life, I am still in touch with her now". This is another important reason to have good female representation in the furniture making industry as key figures to inspire the next generation. 
"I am proud of every project I have worked on" and that "I have contributed to making furniture that looks impressive. Every project is a new challenge and a new lesson."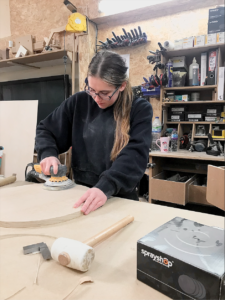 Kate
As part of her BA Furniture and Product Design course at Nottingham Trent University (NTU) Kate has recently joined us. Kate has chosen the Furniture design route of her course and was surprised by the statistics of women working in furniture manufacture. "On the furniture design side of my course there are more girls, it's about a 60:40 split of girls to boys. This year is also a big cohort with 62 on the course". 
Kate's interest in furniture making started at the New Designer Exhibition where she saw the furniture built by Nottingham Trent students. The New Designer Exhibition is held every year and presents the work of selected design graduates from across the UK. "As soon as I saw it (the NTU stand) I thought, that's it, that's what I want to do! It was the variety, some really wacky stools, a massive sofa, some wall hangings and it was all made to such a high standard". 
Kate is a confident young woman, a problem solver keen to experience all aspects of our making processes and the gender inequality in her chosen industry does not phase her. "The only difference in my mind is strength, I am never going to be as strong as some of the men out there, but I don't necessarily think that is something that bothers me, it would just be a case of asking someone to help me lift something if I needed to".